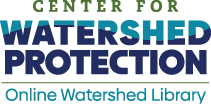 The Online Watershed Library (OWL) a searchable, online database of research articles, stormwater and watershed manuals and plans, assessment tools, regulatory information, and other watershed-related resources. OWL was developed to be a time-saver for watershed and stormwater practitioners as it provides users ready access to a well-organized database of relevant and up-to-date information on watershed and stormwater management.
All Center for Watershed Protection publications are provided free to the public through OWL. To search additional non-Center publications, users must be a current member of CWPA or an OWL subscriber. Due to copyright protection, not all publications included in OWL are available for download and in such circumstances, a link to the publication is provided.
Click here for hints on how to search OWL.
Want more than just OWL?
The Center has a yearly series of National Webcasts that expand on many of the topics in OWL!
 Join the Center for Watershed Protection Association!